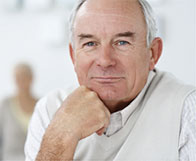 Am I Eligible for the Accordant Program?
How do I know if I am able to be a part of the Accordant program?
You could be eligible for the program if:
You received a call from an Accordant program team member

You received a program introductory packet
Once we connect with you, we will verify your eligibility for the program and get started!
If you have not received a call or a packet, you can also check with your health plan to see if the Accordant program is right for you.
Are You Ready to Get Started?
We make it easy! There are 3 ways you can get started. Pick the one that works for you.
Call us toll-free at 1-800-948-2497 (TTY: 1-800-735-2962).

Our office hours are: Monday- Friday 8 am to 9 pm, EST




Fill out the New Member Form from your Welcome packet. Return it in our postage-paid envelope. You may also fax the form to us at 1-866-247-1150.