Helping Improve Health While Reducing Costs with Proactive Care Management
---
AccordantCare™
20+ Years Complex (or Rare), Whole Patient Care, Including Comorbidity and Self Care Management, NCQA Accreditation in Disease and Case Management.
*NCQA status planned
AccordantCare programs use electronic health records, real-time pharmacy claims data*, health plan medical claims data, predictive analytics and health plan and specialty pharmacy referrals to identify members with rare conditions and comorbidities. AccordantTM nurses identify gaps in care and help proactively support and empower individuals to better manage their whole condition through evidence-based interventions, helping improve measurable clinical outcomes, while reducing costs, primarily avoidable disease complications and ER visits/hospitalizations.
*real-time pharmacy data and predictive analytics available with the AccordantCare Specialty program
Examples in care gaps include:
Improper preventative screenings and immunizations

Improper medication reconciliation on discharge from an acute-care setting

Not understanding a physician's plan of care

Lack of medication compliance

Not understanding self-management practices
Patients with rare conditions contribute to a disproportionate share of a payor's total health care spend; approximately one percent to four percent of a payor's population drives up to 10% of total health care costs.1 These patients have complex health conditions and comorbidities and are often challenged to find the resources and support they need. They not only contribute to a sizeable portion of specialty and non-specialty drug spend, but also a significant portion of medical spend; less than 1/4 is spent on pharmacy costs while more than 3/4 is spent on medical costs.1
1. Accordant Data Warehouse, Accordant Health Services Book of Business, July 2016 & June 2017 claims data.
---
Accordant's Intervention Strategies are Unique
More frequent, personalized interventions help improve member engagement
Our exceptionally high member engagement rates, combined with the day-to-day, caring support of Accordant's nurses and other clinical support professionals, leads to the personalized care and self-management capability that individuals with rare conditions need. Ultimately, our clients benefit from more informed and supported individuals, which in turn leads to optimized medical and pharmacy spend.
For 20+ years, we've accomplished this for our clients through an AccordantCare Team that leverages deep domain expertise and proprietary tools and resources in their tailored support of the individual.
Our team of specially trained nurses and other health professionals develop one-on-one relationships with program members to deliver targeted care management interventions via phone, web, and mail.
Accordant helps reduce total costs of chronic disease care, a great benefit to your members and others involved in delivering their care.
By helping members navigate the complex health care system, we help them prevent avoidable cost and get the most appropriate care for their needs.
By partnering with your members' health care providers, we help improve their ability to support these individuals and optimize their outcomes.
Individuals with rare conditions need more than event-based or acuity-based care. Accordant strategically focuses on five critical aspects of program intervention designed to reduce hospitalization and ER use, optimize care, and promote self-management. They are: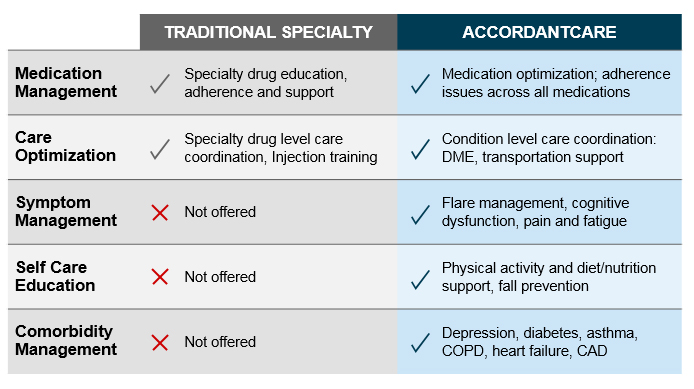 We've been at this for 20 years, and while we're constantly evolving and improving our programs, the reason we come to work every day has not changed. We're dedicated to empowering your members who have rare conditions to manage their total health. They get proactive, one-on-one support, motivation, information, and self-care skills that lead to healthier lives; you get the benefit of optimized medical and pharmacy spend.
---
For more information, contact
Accordant at:
Phone 1-800-948-2497
---