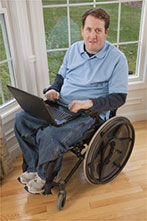 How Accordant Can Help
You already know that your personal nurse team is on-call for you 24-hours a day when you have questions or concerns about your health. Did you also know that as a member of the Accordant program you get access to helpful health tips, interactive tools, and other resources to take care of yourself or your loved ones – all for free! If you're wondering what else you get with the Accordant program, take a look at these services:
Monthly newsletters that you can get online or in the mail

Vital health information at your fingertips at Accordant.com

Educational articles on health topics that matter to you

Urgent alerts about medicines and health risks that may affect you

Access to other resources, like national foundations and organizations
What else can I get from this program besides talking to a nurse?
The Accordant program can help you:
Watch for changes in your health

Spot common symptoms or concerns you should talk about with your doctor

Use tips on how to stay well

Find real ways to put your doctor's advice to work in your busy life

Assist you in working with your physician and health plan regarding support services like medical supplies or in home equipment.

Get information on and talk through decisions you need to make about your health care.
Accordant nurses are experts in chronic disease. They are ready to talk to you by phone or email – anytime that is right for you. Also, when you need extra support, our nurses are on-call 24-hours a day, 7 days a week. With Accordant on your side, you get an extra layer of health care support. You can use the program as much or as little as you like.