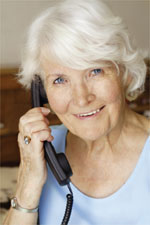 Personalized Care for You
Sometimes you just need to talk with someone about your health. Other times you may need a helping hand to fix a problem you're having or to get the care you need. No matter how much support you need, even if you're taking care of someone else, Accordant is here to help you. Click on the video section to hear more about the program from our Medical Director, Dr. Andrew Krueger.
Accordant has offered services for 19 complex health conditions. Since 1997, we've worked with members of more than 100 health plans, employers and other groups. We've also helped almost half a million people take better care of their health and feel better every day.
Our program is designed to help if you have:
*NCQA status planned
New to Accordant.com? Activate your account
Already registered? Log in today!